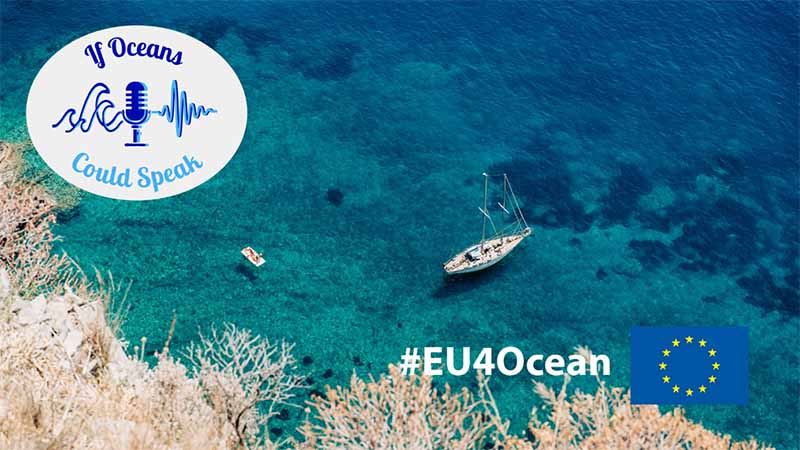 Born under the hospice of the #EU4OCean coalition, "If Oceans Could Speak" Podcast is back with its second season!
After the first season highlighting the Arctic Ocean, this summer the podcast is heading south – to the shores of the majestic Mediterranean sea. The Mediterranean brings new ideas, cultures, voices, and a whole new lineup of hosts and guests to bring the truly diverse part of the world to life, no matter which language you speak.
Each week, conversations in various Mediterranean languages will dive into the challenges and changes facing the Mediterranean Sea today and meet the people – the everyday heroes – dedicated to making a difference. This includes swimming along Lebanese shores with Nabil and Lisa, cooking up Mediterranean dishes with Mattia, diving deep under the sea with Greg or discussing future political integration with Blanca. From English to French to Spanish to Italian and to Arabic, there is something for everyone.
This podcast is an output of the EU4Ocean Coalition for Ocean Literacy. Supported by the European Commission, this bottom-up, inclusive initiative aims at uniting the voices of aficionados to make the ocean a concern of everyone. This second season of the podcast is made possible thanks to an international team including Anna Saito, Vera Noon and Pierre Strosser (ACTeon Environment), Jen Freer and Penny Clarke (British Antarctic Survey), Stefan Kirchner (Arctic Centre), Anna Maria Marino (Youth and Environment Europe), Francisco López Castejón (Cartagena Oceanographic Research Institute), Agness Nohra (Lebanese University), Arne Riedel and Chiara Mazzetti (Ecologic Institute) and Sara Granchinho (EurOcean).
"If Oceans Could Speak" is available on Buzzsprout and Spotify, and in your favourite podcast app.
For more info – and languages – you can consult the Maritime Forum Page and listen to the trailer!